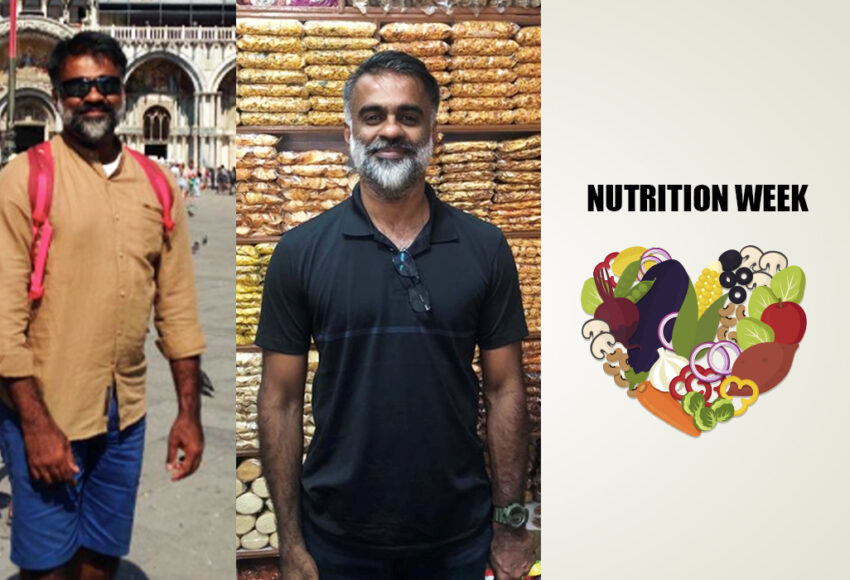 It's Nutrition Week, are you Nutri-aware?
In early 2019, my knee pains had gone from bad to worse. My already badgered knees from sports injuries were further stressed with too much long-distance running and were giving up.

The funny thing was, that I had stopped running in 2016. The pains didn't go away, If anything they were getting worse.

Adding to all this was that I was working a lot, lots of travel and dealing with stress at work too. But all through this I was exercising regularly as I had always done and thought that it would take care of things.

Plus, While I was always a foodie, I was never into junk food, so I felt I was doing okay. The little excess weight I was carrying would always be manageable.

My pains were affecting my mood, my strength and my ability to put in the work on a daily basis. Orthopaedics didn't have an answer, apart from cutting opening my knees and either pulling out something or putting in something. I was done with surgeries and doctors.

When I started researching on my own, I saw the linkage between my diet and inflammation and consequently, other aspects like sleep and energy all of which also had a deep impact on my mental state and my confidence.

So in late 2019, I decided to shift my focus towards eating right, and it turned out to be one of the most transformative decisions for me. Coupled with the same focus on exercise, it had a multiplier effect on my physical and mental state. It was not just about the pains anymore, it was about a better life.

Everything changed. All the usual parameters that one starts to think about in their 40s like sugar, cholesterol, etc.. were looking great, and weight loss happened. Energy, sleep etc., all improved.

Then came covid and everything went sideways. I was a business owner with a responsibility for people and continuity, perhaps it was that discipline that began 6 months earlier that gave me the stability and stamina to persevere at work and at home.

As one enters middle age, life catches up.

Attention is divided as responsibilities multiply, and all this as the body is going through changes, from loss of muscle mass to slower metabolism. And perhaps even more complex for women. It seems counterintuitive (in hindsight of course) that just when we need to focus more on our health we seem to push it lower down in priority. It is at this precise stage that the healing and regenerative power of proper nutrition becomes more important than anything else.

Nutrition is both a complex and simple subject. It's complex if you get nerdy about it and simple if you stick to the basics. I am somewhere in between the two in my journey.

Irrespective of how much you know, it is well established that any attention to being healthy STARTS with nutrition and your fitness routine is the booster shot. Not the other way around. Too bad I learned all this after busting my knees!

I wanted to share my learning and my mistakes so that it may serve as a wake-up call to others who still have their joints intact 🙂

This is not about prescribing any diet philosophy. I'm no expert and what works for me may not work or be right for you. The challenge is never about starting, it is about staying on the path and so I thought I should put down some of the rules that work for me to help stay on the path I am not the strictest person in the world.
So here goes:
Change as a household: It helps if everyone in the household is recruited in the process, it makes life easy for all and there are fewer temptations on the table. Plus, you will be doing everyone a favour.
Less is more: Eating fewer times with lots of gaps in between is great for the system. The body is constantly in healing mode and the less it has to focus on digestion, the more it can take care of other things. A smaller number of items on the menu also helps in eating mindfully. We focus so much on how to eat healthy that 'Not eating' often is never a topic!!
Common sense is a great diet coach: Enough of those YouTube videos and blogs about hacks. Just common sense is enough to eat right. Micronutrients + Macronutrients, Whole foods over packaged foods. It's not rocket science really.
YouTube Zindabad: YouTube is a gift that keeps giving when it comes to eating healthy without compromising on taste. You'd be surprised by the number of interesting ways that Karela to Tinda (that you thought were boring) can be made awesome!!
In food packaging, read only the back, not the front. There is no use complaining about food advertising. You have to use your intelligence. No one is asking you to eat noodles every day. YOU are making that choice. If you think you are having a malted beverage and getting the necessary vitamins, then who's the one to blame?
Eating while travelling: Arrgh! This is perhaps the biggest challenge, at least for me. It's the items, the cooking medium, the salt, masala, stale sandwiches on flights, late meals. This is where the battle is lost or won for frequent travellers and I admit, I need to get better.
Small hacks help: Avoid one meal during the day. Avoid any cold or packaged meals on flights. Eat before the party starts. In buffets don't pick cold foods and so on. Make your own rules.
Perhaps the biggest learning for me is that focusing on nutrition is not just about weight management (although it helps) but about healing, mental agility, focus, and keeping lifestyle diseases at bay.
And the day to start is TODAY!