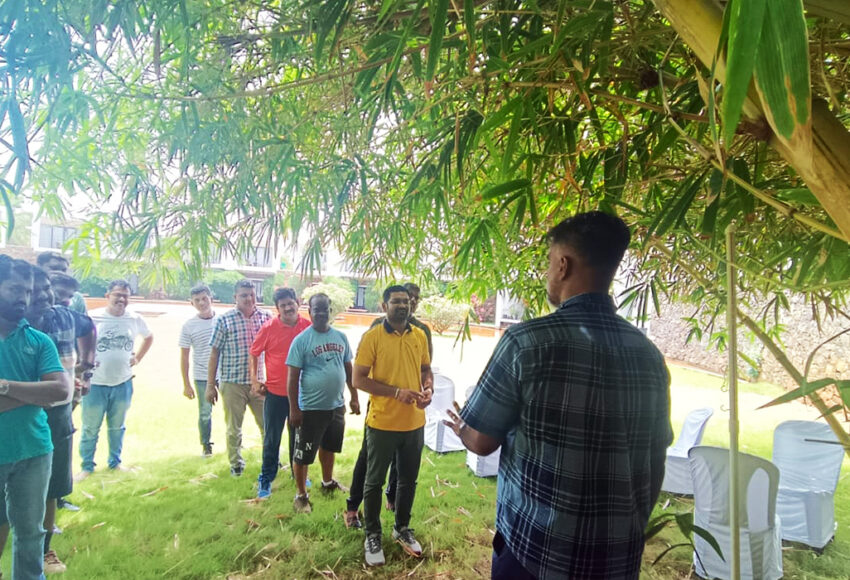 What Truly MATTERS in Leadership Development: Reflections from the Seashore
As I journeyed back from an intense workshop in Mahabalipuram, on the outskirts of Chennai, I found myself reflecting on the experience and the impact it had on the workshop participants. I pondered what elements from this workshop design I could take with me and incorporate into future workshops. While some of these insights might seem intuitive and second nature to me and those alike, the act of reflecting and articulating them aids helps in effective sharing.

Connections Matter

In the fast-paced world of corporate India, particularly in major cities, it's easy to assume that English is the predominant language of business. However, we often overlook the fact that in 70 to 80% of Indian businesses, both large and small, regional languages is how business in conducted. It's the language in which they think.

During the workshop, I interacted with executives from a medium-sized company specializing in fragrances, and extracts. These subject matter experts held extensive industry knowledge and experience, leading teams of varying sizes. What struck me was how effective it was to switch between English and Tamil. This shift significantly enhanced engagement during the program's reflective conversations.

Whether it's language, community, or regional background, taking the time to understand the cohort's ecosystem and incorporating it into the program can establish a strong connection. These connections, in turn, create opportunities for enhanced learning experiences.

Empathy Matters

Dynamics in a 40-year-old family-owned business drastically differ from those in a startup or established corporate entity. The key lies in consciously setting aside our biases and genuinely empathizing with the audience's context. What might clash with our own sensibilities could be the norm in their setting.

For instance, one group member who held a 30-year experience with the organization proudly shared that his son chose not to join the company. In today's world of startups and job fluidity, this could be perceived as jarring or endearing, depending on one's background. The essence lies in avoiding judgment and accepting the differing realities of others. Instead, we must engage in meaningful conversations, understanding their unique challenges and barriers.
Time & Space Matter

This program was designed to span a comprehensive 2.5 days. Although I initially had doubts about maintaining engagement for such a duration, I found myself yearning for more time by the end. In an era of microlearning and rapid online platforms, the emphasis often shifts towards quantity and accessibility, overshadowing depth and rigor.

A program like this necessitates moments of pause, reflection, and the unraveling of deep-seated habits and barriers. These leaders serve as catalysts for growth and change, and the organization's commitment to dedicating such time showcases its long-term vision for people development.

Design Matters

Beyond the plethora of leadership skills lies a fundamental truth – a workshop should enable leaders to recognize their strengths, weaknesses, and hidden aspects, while reflecting on how their actions impact people and outcomes. The design should tackle present challenges, offering practical solutions. Employing well-curated games and simulations that address competencies draws leaders in and sustains their engagement. Gone are the days of theoretical learning; the era of practical, relatable learning is here.

Tools Matter

Over time, I've transitioned from merely facilitating reflection and deeper insights to propelling participants towards actionable change, rituals, and habit formation. Equipping these leaders with tools that encourage articulation of their next steps and actionable items for change is paramount. These tools serve as clear reference points, distilling the workshop's output into tangible actions. Thoughtfully designed tools, simple yet potent, can create personal pathways for change. When combined with an accountability partner, a self-sustaining team coaching model emerges.

In summary, these reflections from the seashore underline the core aspects that truly matter in leadership development. They spotlight the value of connection, empathy, time, design, and tools in fostering meaningful growth and change within individuals and organizations alike.