Jumpstart for New Joiners at HPCL
The Situation:
HPCL as an organization is growing and as a result, many new people are entering the workforce. Often these are fresh graduates with no experience or the corporate culture. New joiners in a large corporation (MNC) often face challenges such as adapting to a diverse corporate culture, navigating complex organizational structures, and understanding global communication dynamics. Additionally, they may encounter difficulties in integrating with existing teams, handling increased workloads, and managing time zone differences if the company operates internationally. It's important for these organisations to provide effective onboarding, clear communication, and mentorship to help new employees overcome these challenges.

The Intention:
HPCL, as part of their induction program intended to help their fresh graduates transition from campus life to the corporate world. The need was two-fold: first, these new joiners needed to adapt their mindset and skills from an individual-centric approach ("I") to a collaborative and interdependent one ("We").

Second, new joiners often approach their careers with an excessive focus on individual performance, leading to detrimental internal competition and a lack of synergy. The intention was to re-emphasise the need for collaboration and a win-win style of working.

The Intervention:
An immersive day-long workshop with game-based learning to introduce the concept of moving from "I" to "We" through engaging activities and real-life case studies with a sharp focus on understanding interdependencies, collaboration, communication and influence over authority, emphasizing their significance in a corporate environment.

We also use a self-awareness tool, Johari window, for participants to figure out their own personalities and where they stand today so they can use that as starting point in this learning journey.
The Impact:
Participants reported a significant shift in mindset, demonstrating a deeper understanding of collaboration and interdependencies.
A reduction in internal competition was observed, leading to increased cooperation among new joiners.
Enhanced communication skills were evident in both interpersonal interactions and team collaborations.
Participants appreciated the need for greater adaptability and resilience in the face of organizational changes.
The use of the Johari Window assessment led to several "aha" moments, as participants gained insights into their blind spots and areas for improvement.
Our flagship program, Jumpstart successfully bridged the gap between individualistic campus mindsets and collaborative corporate environments. By focusing on key competencies and utilizing the Johari Window as a self-assessment tool, participants gained the skills, insights, and self-awareness necessary to thrive as valuable team members in their new professional journey. The program's comprehensive approach ensured that graduates left with actions and rituals they will need to incorporate into their work habits to transition smoothly, set themselves up for success and deliver the impact the organization expects of them.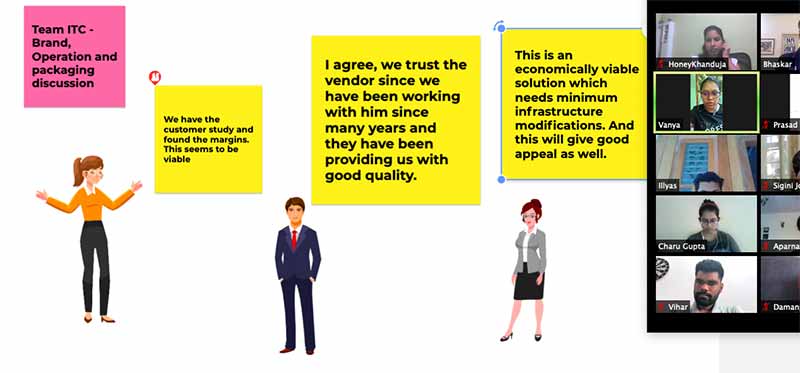 ITC Limited - Reinforcing values in a Virtual World
When the times are tough, the way to go is to double down on what makes an organization stand out. It's values. In the backdrop of the pandemic, there is a need for all organizations to revisit and recommit to their core values. The interpretations of the values may change slightly but the relevance remains. We were fortunate to support the amazing team at ITC Limited who took time out to pause and reflect on their values and what it means to each of them. We did this through some interesting virtual activities. The activities were played on collaborative workspaces which allowed multiple participants to take part in the activities all at once.
Value of values - Value of the month campaign for L&T Heavy Engineering
Why do organizations have values? And when and where do they become relevant? Often these questions are the starting point of all our value immersion workshops. Values provide us with a direction when we are conflicted or at a point of choice as to which way to proceed.

Visionary organizations know why it is important that all their employees know the answer to this question. So that the values can come alive for employees and they may see these values in action in their day to day work lives. And demonstration of values always begins from the top.

BlueSky Learning conduct first in a series of workshops for L&T Heavy Engineering to kickstart their Value of the month campaign with a session on Trust & Transparency for their leadership team. Using curated activities specially designed for virtual workshops, the leaders experienced what demonstration of these values meant and the consequence of the choices one makes.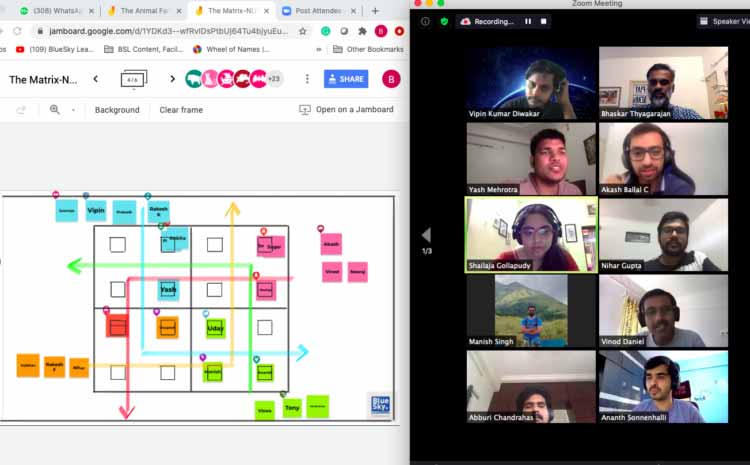 Decoding Collaboration - Workshop for Nutanix
We love talking about collaboration in teams. We always hear amazing stories and ways in which collaboration plays out (Or not!) in various scenarios.

For us, collaboration is a mindset that takes work and practice to develop. It also requires conscious effort on everyone's part to make it work. Our sessions are designed to show what happens when people with diverse priorities work together and when people don't approach tasks with a win-win mindset.

This session with the great team at Nutanix wasn't any different. We used an interesting virtual activity called The warehouse challenge to decode the meaning of collaboration. Great insights and Learning and also, great fun as always.
TGIF - Virtual engagement for Moët Hennessy India
Being virtual, the biggest hurdle is the lack of what we call 'watercooler conversations' or engagement in general. Most of your teams have been working extra hard to navigate the crisis and how many informal 'fun' conversations have you had with your teams in this past few months? Point to ponder for you. The ever enthusiastic team at Moët Hennessy got together for a fun session to just kick back and relax and have some productive non-work interaction, aided by our activity, The Great Ocean Race. It was wonderful to see the team engage in some banter and fun without the pressures of work!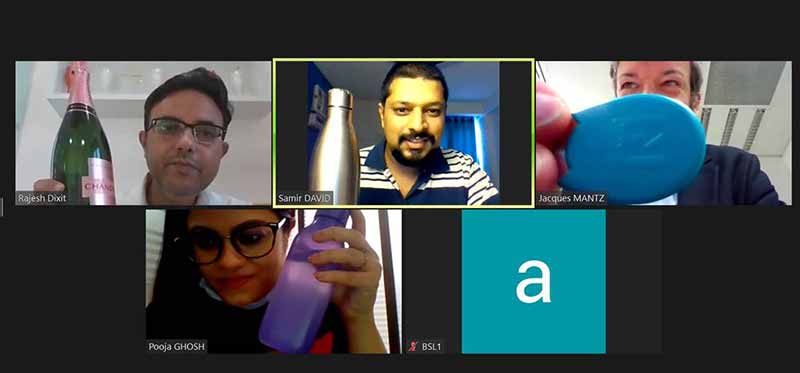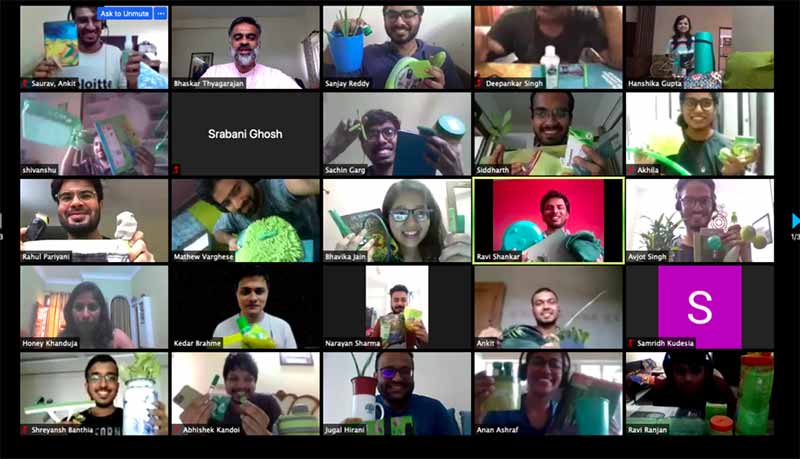 Starting Right - A workshop for the new fellows at Plaksha University
For a team, setting off on a journey on the right note is of great importance. It is easier when you set the ground rules and the non-negotiables right at the start to make sure that everyone knows what's valued and what's not. Of course, there will be course corrections but having the right foundation is easier.

We strongly believe in this and this is our philosophy behind orientation and induction programs.

From our orientation session for the brilliant students from Plaksha Tech Leaders Fellowship.
Enabling Managers to build great teams - Sessions with Berkadia
Your managers are your forward line when it comes to building great teams and having critical culture conversations happening. While occasional team building activities are great, having a regular, methodical and persistent approach by your managers is going to be your best bet when it comes to building great teams.

Managers understand your people much better and they also are acutely tuned into the goals, aspirations and motivations. Enabling them would mean you have custodians at the ground level for your team building efforts.

Our program with the managers at Berkadia discussed tools, activities, and more to enable them to make their teams better.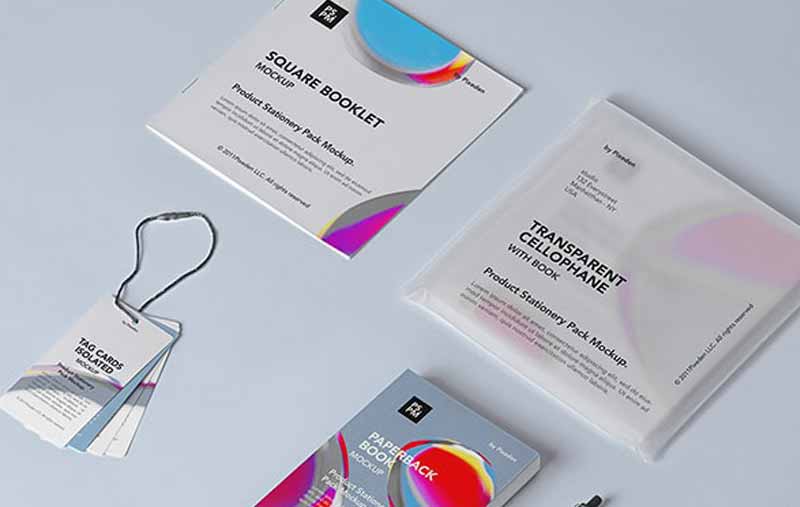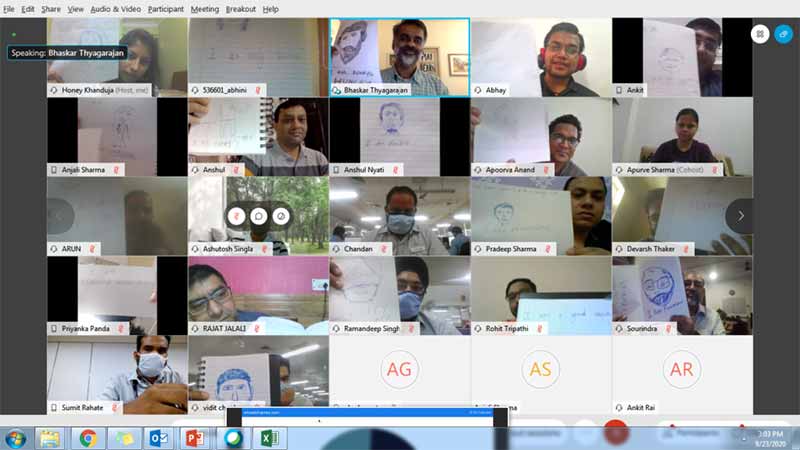 The 'how' of Collaboration - Workshops for Maruti Suzuki
We all speak about collaboration and it surely is on the top of the agenda when it comes to orgs but how do you put it into practice? We all know the 'why' and the 'what' and it's the 'how' that's the tricky part.

In our programs, we speak about collaboration being a mindset and being a part of the culture. Everyone have to think about collaboration and 'what I can do for you' first before expecting them to do something for you. Collaboration isn't easy but it can be made into a habit.

Insights and pics from our workshop on collaboration with Maruti Suzuki India Limited.
The Great Ocean Race - A Virtual adventure for remote teams
The Great Ocean Race is a challenging team exercise which takes the teams on a race around the great oceans of the world in search of the ultimate treasure. A touch of trivia here, a bit of puzzle there and a whole lot of fun makes it the perfect activity for your teams to kick back and relax.

The race takes place in an entirely virtual setting with teams working together on a collaborative workspace to crack challenges and puzzles to get to the end of the race and win! Images from our sessions with a gaming solutions MNC.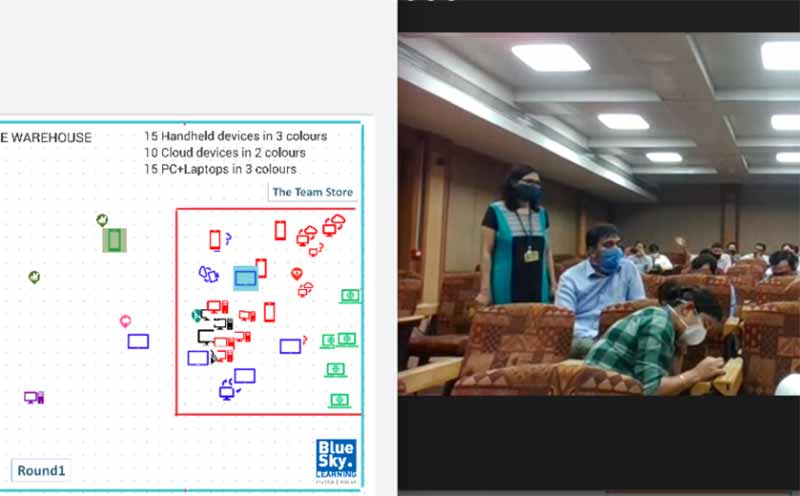 Phygital workshops - The best of the physical and virtual sessions
We love being creative and this is perhaps our greatest strength too. With the restrictions on travel and physical workshops, along with the wonderful team at L&T Heavy Engineering, we reimagined the typical classroom workshops. Enter Phygital workshops.

With the facilitator virtually delivering the session to the participants in a classroom, we were able to combine the classroom experience and the flexibility of virtual sessions to create an effective model of delivery.

The participants all collected in a conference room with all safety precautions intact. While we conducted the program virtually, beaming to all in the room, the learning games were played by the team online while being in the same room. Live polls, engaging conversations & learning tools all delivered in a unique blend of physical and virtual.